Staff Team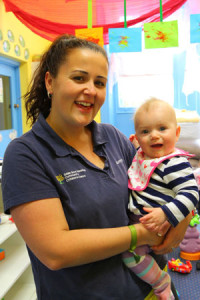 Our Educators are a dedicated team of Child Care Professionals who aim to provide quality child care for children, in consultation with parents.  We aim to develop a partnership with parents to enable us to provide the best possible care for each individual child and their family's needs.
We have a dedicated and motivated Educational team from diverse cultures and backgrounds.  We have high Educator retention and a number of Educators have been with the Centre for many years.
Educator's photographs are displayed in the foyer so you can become familiar with them and identify them. Photographs of relief Educators are displayed on the board in each room to ensure you know who is caring for your child on the day.
There will be a highly qualified and experienced staff team working in your child's room. Their educators will consist of full time and part times team members.
TRAINING AND QUALIFICATIONS
All of the team are trained through tertiary institutions, external studies and in-service workshops. The Centre employs more qualified Educators than required by National Quality Standards.  Qualified Educators hold a Diploma of Children's Services or equivalent or an Early Childhood Degree
All Educators hold a Senior First Aid Certificate and all are trained Asthma First Aid, Anaphylaxis First Aid, Safe Sleeping, Reporting Abuse and Neglect. Educators at the Centre are also trained in Food Handling Hygiene.
Educators hold or are studying for a Certificate III in Children's Services or a higher qualification.
Criminal History checks are conducted for all employees as required under the National Quality Standards